AWSS Pyrolusite highly catalytic media to remove iron, manganese, hydrogen sulfide and etc; from source water.
AWSS Pyrolusite is a granular water filtration media used for many decades in Europe and many places in the world including Thailand where it is preferred filter media when dealing with water containing soluble iron, manganese and arsenic. AWSS Pyrolusite is naturally mined ore and it has been used in water treatment for a long years, to remove iron and manganese (Fe/Mn) and etc. AWSS Pyrolusite catalytic filter media consist of solid granules of Pyrolusite crushed in quartz sand. AWSS Pyrolusite has the ability to remove most soluble heavy metal and manganese etc, by oxidizing iron, manganese and hydrogen sulfide from source water.  It is a mined ore consisting of 40 to 65% manganese dioxide by weight. And it is an amorphous appearing mineral and mostly granular. AWSS Pyrolusite has specific gravity of 4.8 Like silica sand, AWSS Pyrolusite is a hard media with small attrition rates of 2-3% per year.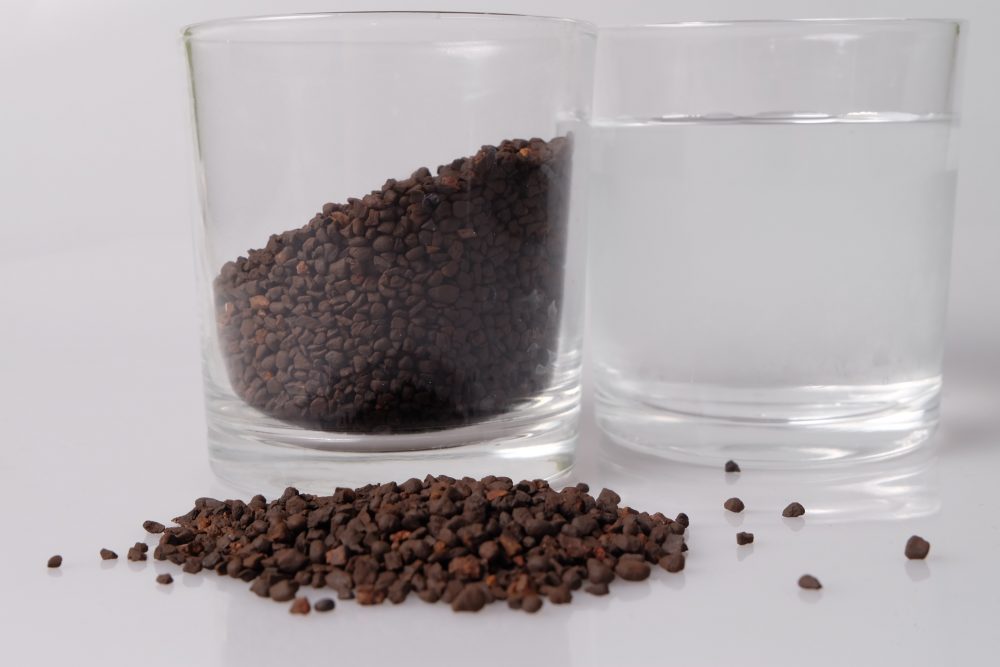 No chemical regeneration is required. Backwash is a must for proper operation. Attrition during backwash can be a benefit as it exposes more surface sites for oxidation of iron and manganese in water.
The density of Pyrolusite is in the range of 120 lb/ft³, requiring a backwash rate of 25-30 gallons/ft² and redistribute the media throughout the bed. Air scour and backwashing are recommended in simultaneous mode. If water backwash alone is used, air scour prior to backwash is recommended with a water backwash designed for 75 m³/m² in order to flu¬idize the bed at least 30%. If a gravel support over the underdrain is used, a gravel retaining screen should be included in the design. The manufacturer recommends daily backwashing to maintain the effectiveness of the media for oxidizing and removing iron and manganese.
The various configurations of Pyrolusite provide extensive surface sites available for oxidation of iron and manganese in water. Removal rates of iron in excess of 20 mg/L are achievable.
Advantages of AWSS Pyrolusite.
Very high effective reduction of iron, manganese, hydrogen sulfide and etc.
Durable media with long life period up to 10 years.
Less chemical to use.
Lower operation cost.
The water quality output will be more stability.
Physical and Technical properties
Physical form : Granular
Sizing : Effective 0.8,1.2,3.0 mm
Colour : Dark brown to black
Active Ingredient : Manganese Dioxide (MnO2) 40-60%
Specific Gravity : 2.9
Service flow(LV)..……………………5-12 m/Hr.
Backwash rate…………………………25-30 m/Hr.
Air Scouring rate…………………..…1-2 Bar of Air Pressure
Freeboard………………………………30-50%
Bed Depth………………………………100 Centimeters
pH Range……………………………… Above 7.0
Mesh Size………………………………Support Media bed 0.7mm
Life time…………………………………5-10 years (Minimum 5 years)
Packaging
40 kg. in 3 layers paper bag.
1,000 Kg. in PP Bag.
Notice
Hydrogen peroxide cannot be used as an oxidant.
| | | | | | |
| --- | --- | --- | --- | --- | --- |
| Location | Parameter | Source | Inlet Maximum | Outlet Maximum | % Removal |
| | | | Unit : mg/l | Unit : mg/l | |
| Chachoengsao Municipal Water Supply | Manganese(Mn) | Well Water | 0.936 | 0.030 | 96.80% |
| Samutsakorn Municipal Water Supply | Manganese(Mn) | Well Water | 0.395 | 0.026 | 93.42% |
| Y.R.C. Textile | Antimony (Sb) | Wastewater | 0.323 | 0.072 | 77.50% |
| P&G | Iron (Fe) | Cooling Tower | 2.820 | 0.010 | 99.65% |
| Srinakorn Water Supply (Sukhothai) | Iron (Fe) | Underground water | 0.890 | 0.020 | 97.50% |
| Thai Parkerizing | Zinc (Zn) | Wastewater | 296.0 | 0.220 | 99.30% |
| UTAC | Copper (Cu) | Wastewater | 1.160 | 0.060 | 94.83% |
| EVONIK | Manganese(Mn) | Well Water | 0.234 | 0.020 | 91.50% |
| | | | Unit: µg/l | Unit: µg/l | |
| Kongkailas Water Supply (Sukhothai) | Arsenic (As) | Underground water | 45 | 5 | 89% |